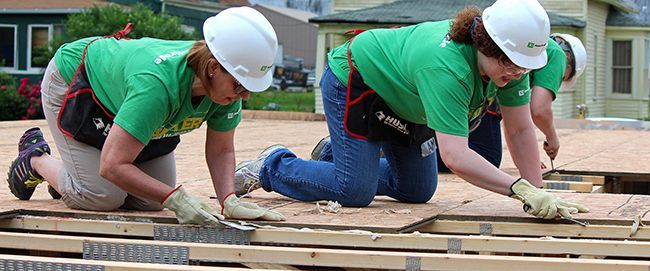 The Community of Siouxland
Each Habitat for Humanity Affiliate is assigned a geographical service area. Siouxland Habitat for Humanity serves five counties: Woodbury, Plymouth and Sioux Counties in Iowa; Union County in South Dakota; and Dakota County in Nebraska.
We strive to build 2-3 homes a year, however, we have 4 homes scheduled for 2021. We are excited to announce that our first 2021 build in Sioux City will be the construction of a townhome! This will be home to two Habitat families! We have, historically, only built single family homes so we are looking forward to this new-to-us construction format. Concurrently, construction will take place in Hull, IA with a single family dwelling. Another first for us will be construction of a Habitat home in Hawarden, IA. We are delighted to become a part of the Hawarden community!
Siouxland Habitat for Humanity is committed to creating vibrant neighborhoods and robust quality of life for our homeowners and their neighbors. We work towards this goal by concentrating our home building efforts within targeted neighborhoods and on houses within a few blocks of each other to encourage a sense of neighborhood spirit. We recently completed a 3-house project on Harkin Place in Sioux City with the support of the City of Sioux City and CHDO (Community Housing Development Organization) funds.
We recognize that the homes we build and the families we partner with are not isolated, but rather are part of a larger community--- a community with great potential in which our homeowners are important assets and have made a 30-year commitment. By connecting home owners, community organizations, businesses and local government, Siouxland Habitat for Humanity serves as a catalyst for transforming neighborhoods and creating positive community.